Wadi Tiwi is about twenty-five minutes from Sur, Oman. The famous waterfall at Mibam Village allows visitors to swim in turquoise water while admiring mountain views. There are different ways to explore this village; whether driving to Mibam or parking halfway and walking, there are endless possibilities. Check out the tips below to decide which path you choose when coming to discover Wadi Tiwi. When visiting this village, they include routes, general information, and clothing suggestions.
Ways to get to Mibam
Walk the entire route
Park your car at the bottom and walk up to Mibam to reach Wadi Tiwi after climbing the stairs. One way will take between one hour and twenty minutes to two hours or more. It depends on the group's pace. Walking all the way, one can follow the road or take the farm path at Siwa Village.
Park halfway
Park halfway and hike another 45 minutes to Mibam. You can walk through the village by following the painted flags or take the steep hill. There are at least five hills to conquer before reaching Mibam. A four-wheel is needed to get to the halfway point.
Drive to Mibam
A four-wheel is needed, so for those who feel comfortable driving, it is possible to go to the last village, Mibam, and park. Then walk down about 300 steps to reach the waterfall. This is an easier way to discover Wadi Tiwi because there is hardly any hiking.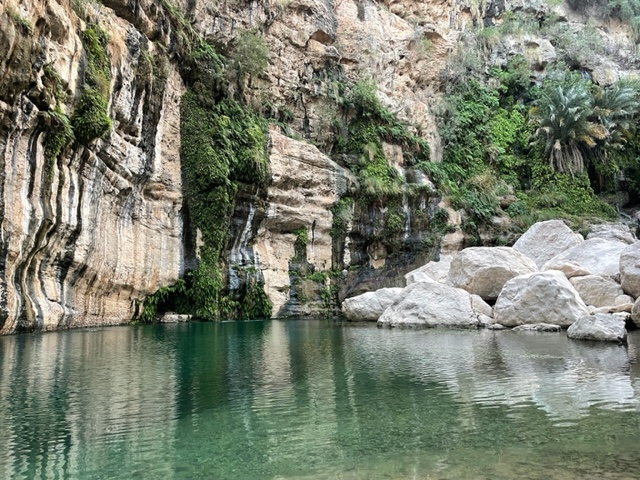 Hiking Advice
If planning to hike halfway or the entire route to Wadi Tiwi, bring water and snacks such as dates, fruit, and protein bars. I suggest wearing hiking shoes, but a shoe with a good grip will be fine if you don't have them. It is Ramadan, so be discrete when drinking or eating because it's prohibited in public. Don't forget sunscreen and a hat.
A four-wheel is needed if planning to drive halfway or to Mibam. Remember that the road is narrow and steep, so be careful. It is possible to park the car and ask a local for a ride to Mibam.
Hiking times
I suggest arriving around 5 am for the early birds to avoid the heat and crowds when coming to discover Wadi Tiwi. For those planning to hike only halfway, coming around 3:30 or 4:00 pm is a good time. Come anytime if parking the car at Mibam because there is shade from the trees when going down the stairs to reach the waterfall.
Dress
Remember that this is the Middle East, and Wadi Tiwi is a village. Try not to wear shorts and cover your knees and shoulders when hiking. I usually wear yoga pants and a t-shirt if I plan to swim because my clothes will dry when I reach the bottom. One guide told me he didn't want to take a tourist to the waterfall because they were wearing short shorts, and he felt uncomfortable.
Another reminder when exploring Wadi Tiwi is that there is a women's mosque at Siwa Village to change and a ladies' toilet about ten minutes from the stairs to go to the waterfall. So, do not change in public near the waterfall without covering yourself. This happened recently when my friends and I were on the other side of the waterfall and saw a couple changing into their swimsuits in the open, but they didn't cover themselves and did not attempt to change behind a rock! So, please be mindful and aware because Tiwi is a village, and it's best to respect the locals.
Abseiling
There are adventure groups that organize abseiling at the waterfall. Abseiling is where a harness is clipped to a rope while climbing down rocks. Most groups come from Muscat. Check these groups on Instagram for another way to discover Wadi Tiwi: @exploreandchallenge, @wadi.adventure @rawahna_adventures, @cyr_adventures.
Wadi Tiwi guide
For those wanting a tour inside Wadi Tiwi and to learn more about the culture while exploring some unique paths to reach the waterfall, contact Mohammed on Trip Advisor or Instagram @9llmll7. His cell phone is +968 9283-6861.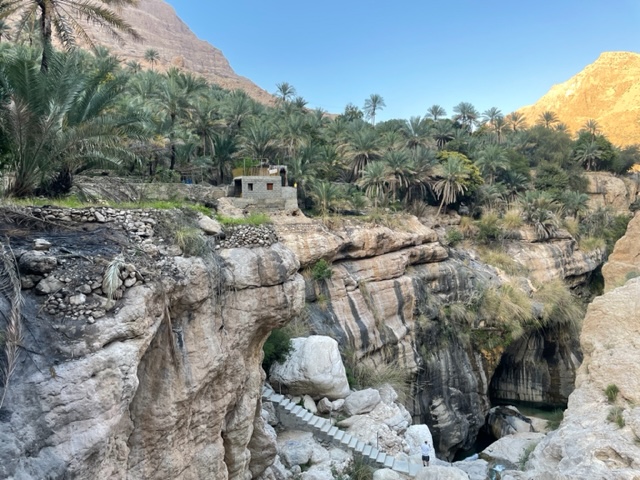 Food
There are three restaurants in Tiwi town, near HSBC bank. They all sell rice dishes, sandwiches, and snacks. I usually go to the one that isn't crowded. Or drive to Sur and eat at one of these restaurants.
Other info
Wadi Tiwi is a special place and one of my favorite hikes in Oman. Whether you're a solo traveler or with friends or family, there is a path for everyone to take to reach the waterfall.
Since it is close to Sur, take some time to explore this coastal city. Read more here for a list of things to do. Happy hiking!