Ramadan
Ramadan begins today and will last for 30 days. For those wanting more facts about Ramadan, I've included details below explaining what happens during this holy month.
Ramadan Mubarak
Ramadan Mubarak is a greeting people say to each other at the start of Ramadan. Ramadan is a month when Muslims fast for 30 days. The idea is to cleanse your body, make sacrifices, and understand what hunger feels like. I asked one friend, who told me it's also a time to stay in the mosque for a long time to read the Quran and pray to Allah. When some visit the mosque for a long time, it's called Atifak. The people are isolated from everyone else, focusing on their souls. They usually do this for ten days, but it's not compulsory.
In addition, Ramadan is a way to give back to the community or charities. For example, if you can not fast for medical reasons, you can donate money to charity or volunteer. According to the Lunar calendar, the date changes yearly, depending on the new moon sighting.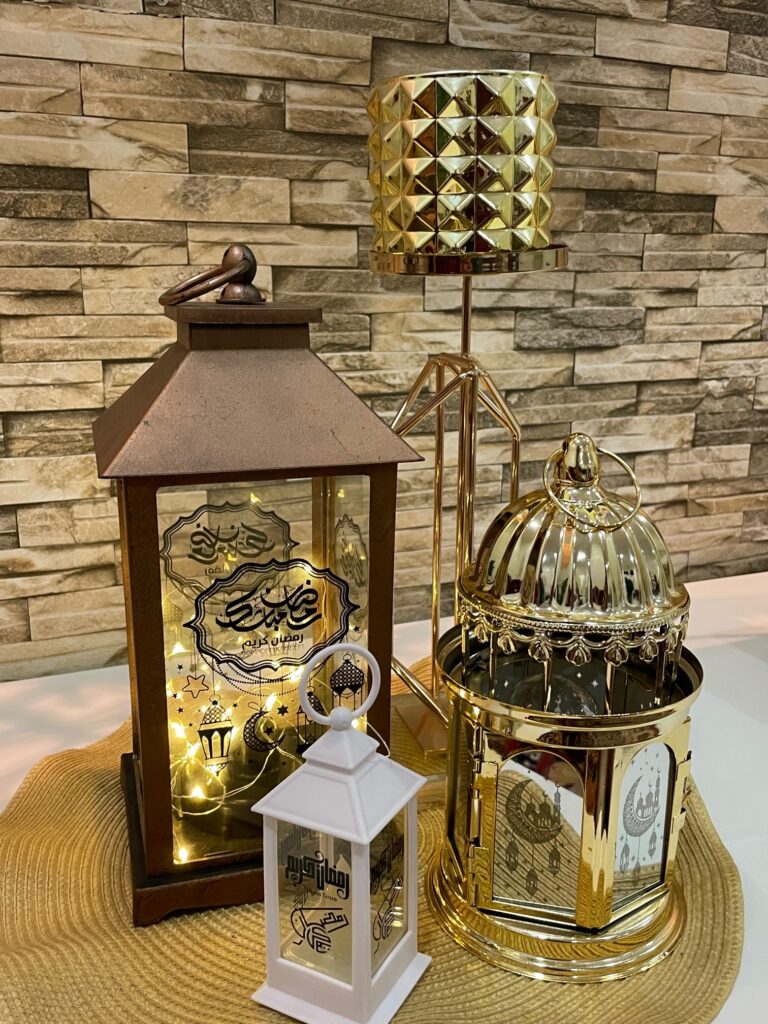 Fasting
Fasting begins at dawn and ends after sunset. Just before sunrise, many will eat during Suhor. Once the Fajar prayer Azan starts, people stop eating. A few friends said people eat different things during Suhor. Some families eat heavy meals such as rice with chicken, fish, or meat, while others have dates or fruit with water, milk, or Laban, a fermented yogurt. Another fact about Ramadan is when people break the fast, they call it Iftar. Some eat dates and drink water or Laban. After this, others may have fruits or sambosa, or other pastries.
After the prayer, some families will have coffee, Karak tea, and sweets, such as donuts and cakes. One main course dish, Fateh, is also typically eaten in Sur. Fateh is similar to a stew with chicken, meat, fish, and vegetables with spices and tomato sauce. Others have rice with chicken and meat. Some families will have dinner around 10:00 or 11:00 pm and eat rice.
Iftar
I've been lucky to have been invited to friends' homes for Iftar. The dishes depend on the people. There has been a variety, ranging from pasta, mandazi-fried triangular-shaped bread, mini pizzas, rice, and chicken. There has also been sambosa, fruit, and salad. Sambosa is the same as a samosa. We have always started the meal by eating dates and drinking water. Neighbors also share food, and families give food to less fortunate people. Next to the mosques, there are usually tents with food parcels set out, so people can also come to eat the food. Others also set up food on the side of the road to offer meals to those who can't afford it and to those who won't reach home before breaking the fast. Every day new food is cooked.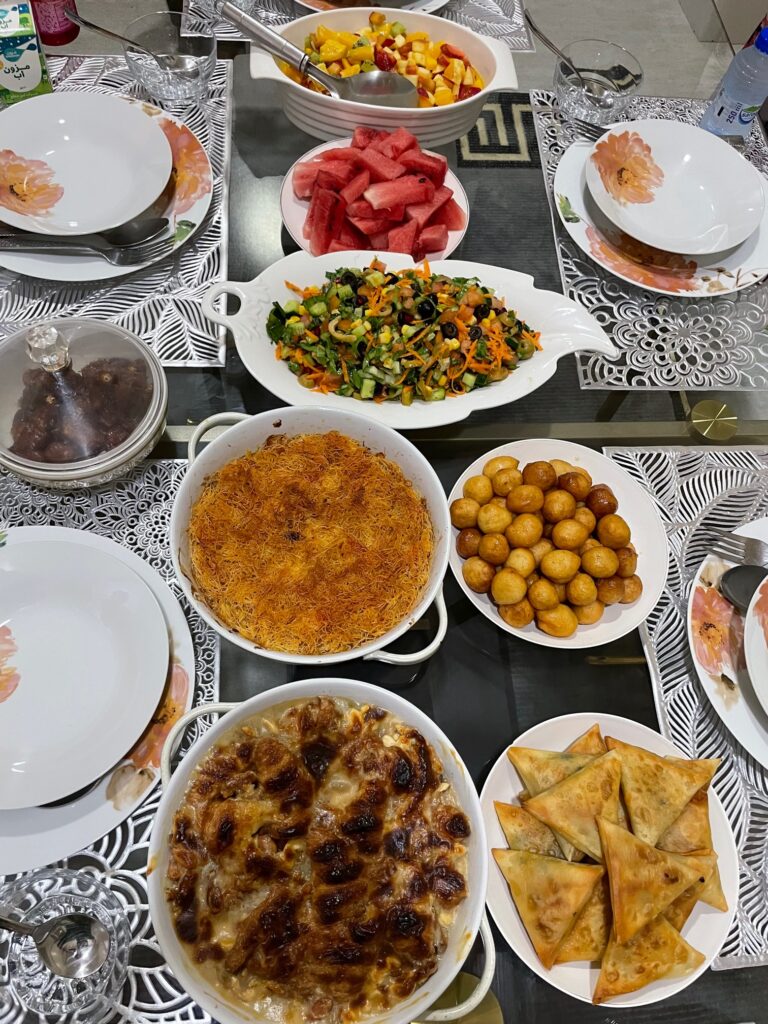 I also had a chance to go to an Iftar hiking event a few years ago. After sunset, we finished hiking and broke the fast by eating fruits, dates, drinking water, and Laban. Then we drove down the mountain and had dinner together. Iftar is a way for family and friends to gather and celebrate the day of fasting.
Closings
During this month, shops and restaurants are also closed during the day. Most will open around 4:30 pm. However, supermarkets are open. In Oman, for non-muslims, eating and drinking in public are prohibited this month. Hotels and some restaurants will also offer Iftar meals. For a list of restaurants in Sur, check out my post here.
Dress
It is especially essential to dress more modestly during Ramadan, so for women, it is best to wear long pants, skirts, and dresses with shoulders covered. Men can still wear shorts, but best to wear below-the-knee or pants during the day if wandering outside. Please keep this important fact about Ramadan when visiting.
Visiting during Ramadan
It is okay to visit Oman during Ramadan. Keep in mind that shops and restaurants will be closed during the day. If hiking is something on the plan, there will not be any day trips or group hiking during this time. Temperatures can reach 35 degrees celsius or higher. Make sure to add Sur to the list of places to visit when coming to Oman.
Ramadan Kareem
Hopefully these facts about Ramadan have helped. Ramadan is a special month and a time to bring people together.