Oman is an oasis, and I feel lucky to live here. A friend of mine recently came to visit from China, but he did not have enough time to go around. I wanted to take him to Sur, where I live, but time only permitted us to stay in Muscat. While there is plenty to do here, I recommend five things to do in Muscat and two traditional food restaurants.
Sultan Qaboos Grand Mosque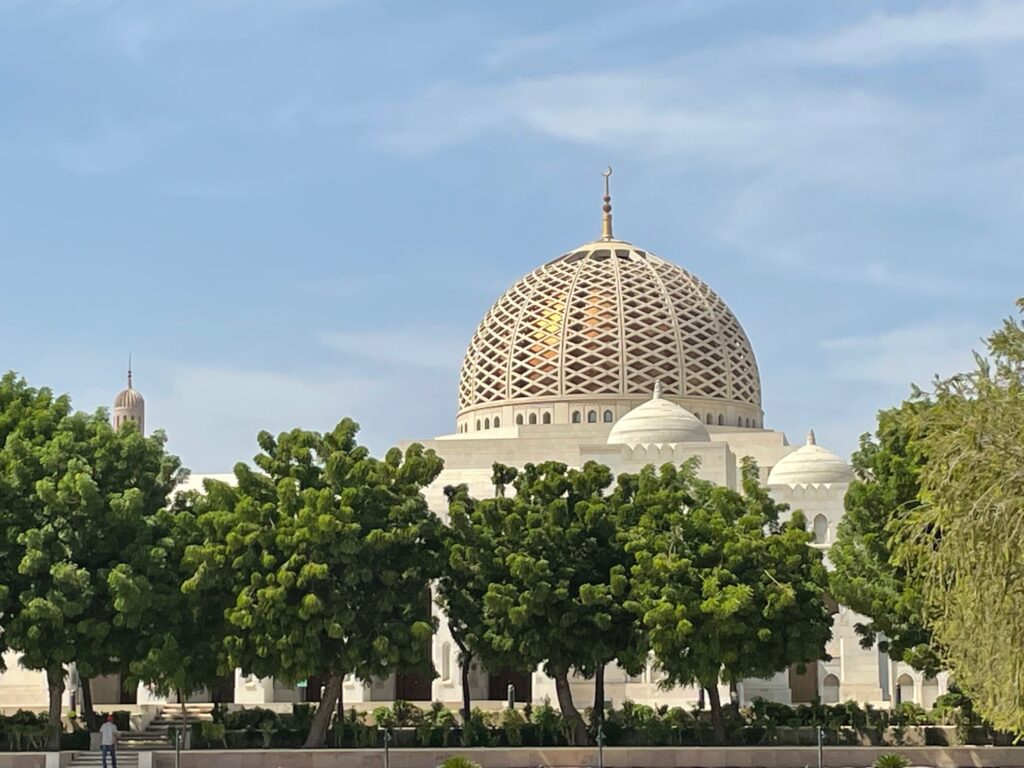 The Sultan Qaboos Grand Mosque is open daily for visitors from 8 am to 11 am, except on Fridays. Go through the mosque to look at the teal-colored tiled walls and the magnificent rugs handmade in Iran. The pristine gardens are also worth looking at and taking some pictures. Ladies must cover their arms and head, but you can rent Abayas in the shop before entering. Shorts are also not allowed.
The National Museum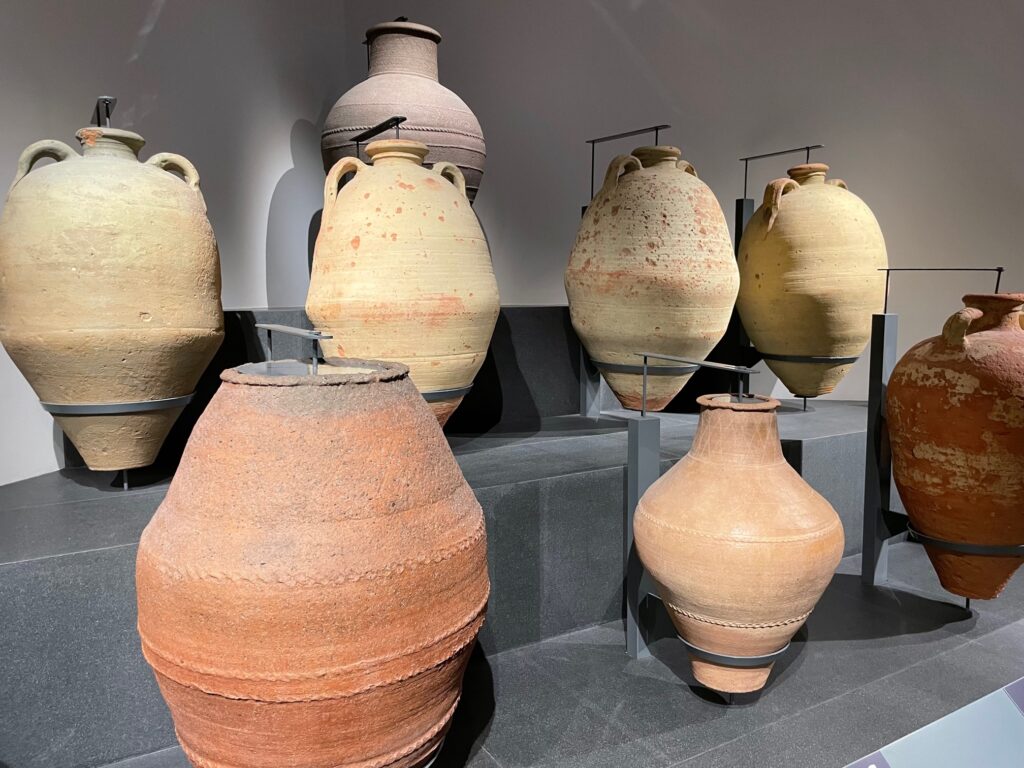 The National Museum in Muttrah has a variety of galleries, including people and land, maritime history, frankincense, and heritage. I always enjoy looking at the jewelry, the old wooden traditional doors, and the traditional clothing on display when entering the museum. They also run a short movie about the history of Oman on the ground floor. The museum is open Saturday to Thursday from 10 am to 5 pm and Friday from 2 pm to 6 pm. Tickets cost 5 rials for visitors, 2 rials for residents, and 1 rial for GCC citizens. This museum is worth seeing when looking for things to do in Muscat.
Muttrah Fort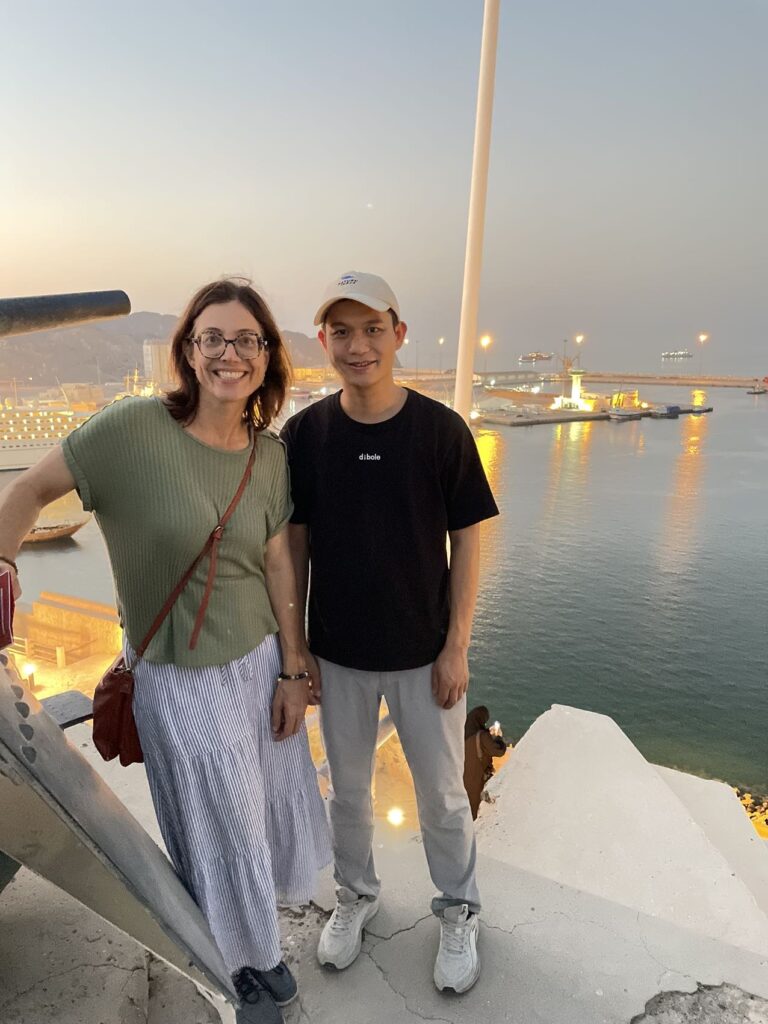 The Fort in Muttrah has a nice view of the sea at night. It is an excellent spot to watch the sunset; therefore, expect the Fort to be busy during this time. My friend was impressed with the cannons and enjoyed the views of the dhows. It costs 2 rials for foreigners and is open daily from 8 am to 9 pm.
Place and People Museum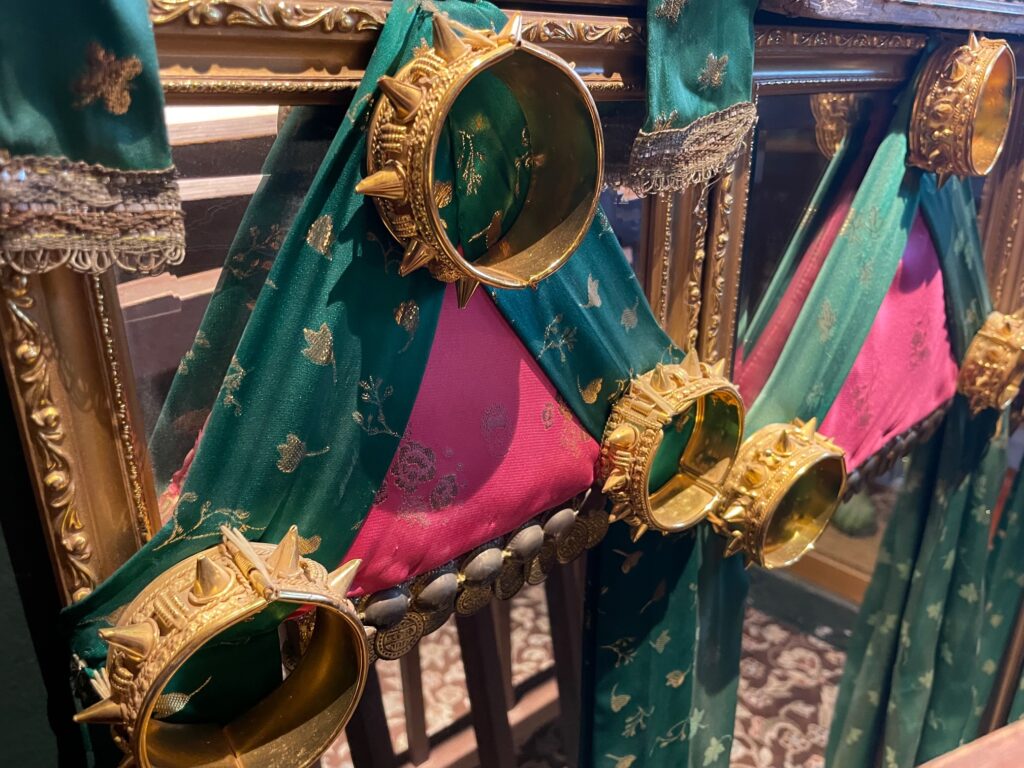 The museum near the Fort is an excellent place to stop to learn about Omani culture. The museum is an old house and has a few rooms, including the marriage, sitting, and an example of a traditional kitchen room. The marriage room features traditional clothing and jewelry, including my favorite bracelet, which is gold with spikes around it. They also have a small gallery and a gift shop. It is open daily from 9 am to 6 pm and costs 1 rial.
Al Alam Palace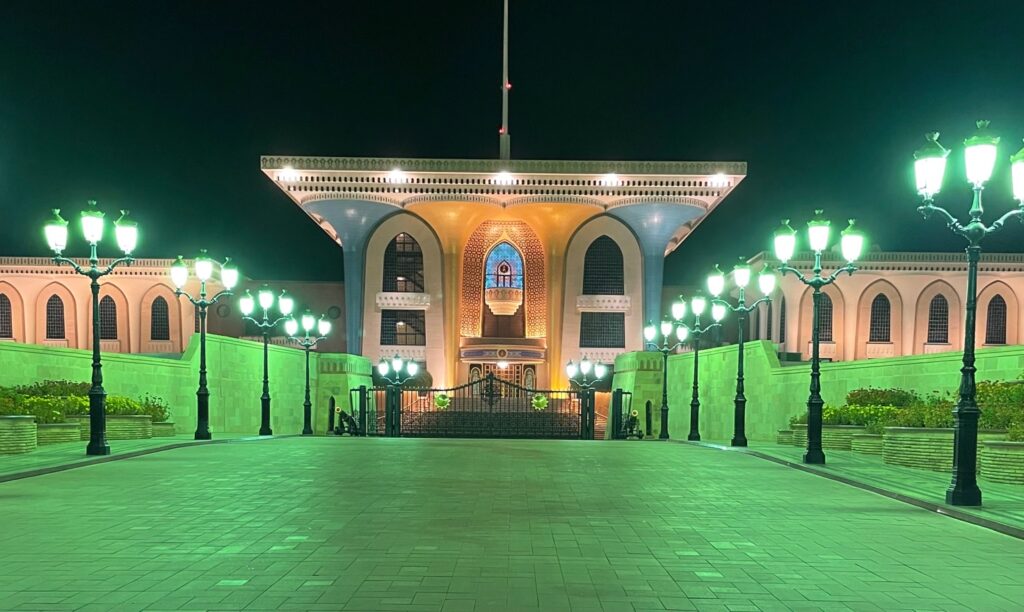 I have been here during the day and at night, and I prefer to come at night. The lights around the palace and garden make for a lovely picturesque setting. The lights offer a green background while highlighting the yellow and blue-colored palace. No one can enter, but visitors can take pictures at the gate. Take some time to admire the garden with flowers neatly placed around the grounds. In my opinion, one set of flowers resembles the shape of a star. Visitors can come anytime.
Traditional Food
There are plenty of restaurants in Muscat, but try two of these places because the food is tasty, has lovely Omani-style decorations, and offers traditional Omani food.
Bait Al Luban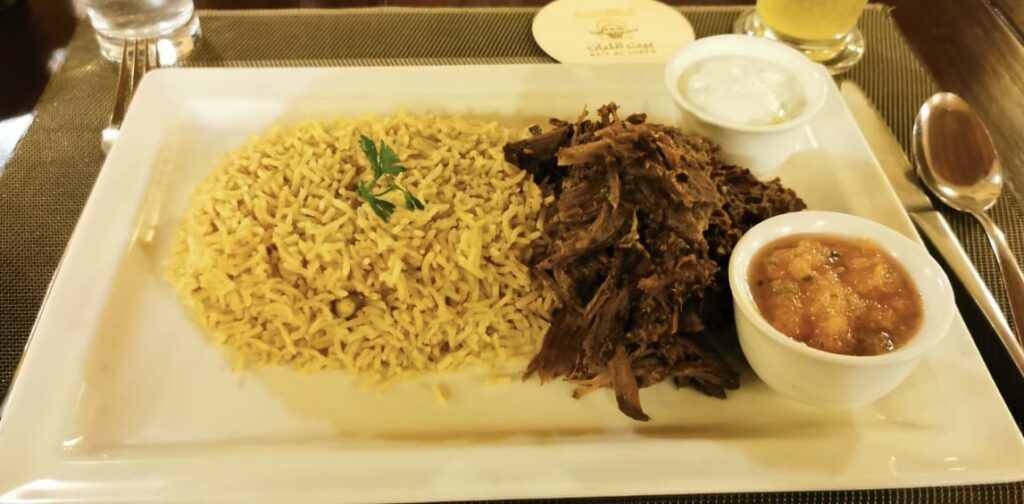 The restaurant is in Muttrah, across from the fish market and near the Fort. Try Shuwa, goat meat cooked underground. The meat is tender and full of flavor with Arabic spices. The dish comes with rice, and the restaurant also has Shuwa lasagna, which is also tasty. Another traditional item is Qabouli, rice cooked in a meat broth with Arabic spices. Make sure to save room for dessert. Two items to try include Asabe Luban, a fried cream cheese inside a phyllo-like dough, and Luqaimat, similar to tiny fried donuts. The decor ranges from clay pottery water jugs to traditional silver pots and kettles. Patrons can choose to eat at a table or on the floor. There is metered parking during the week.
Dukanah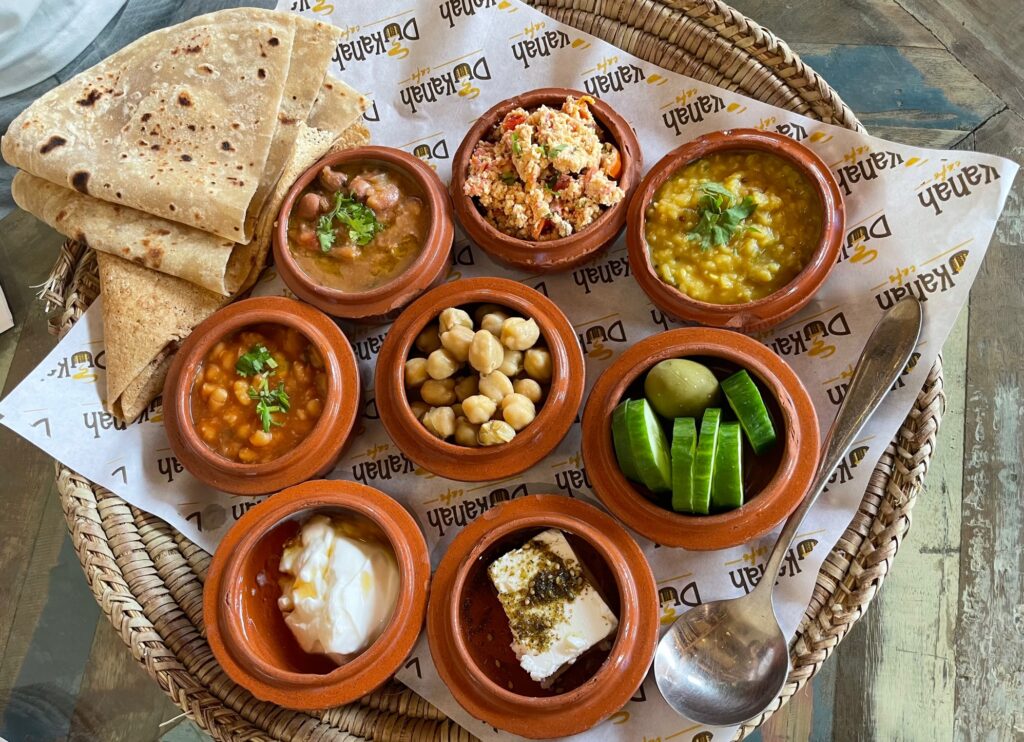 About three minutes from the Sultan Qaboos Grand Mosque, the restaurant is one of my favorite places to eat Arabic breakfast. Choices include ful – beans, eggs, dal, and baked beans. It also comes with Labneh – like thick yogurt, and cheese. Poratha and Omani bread accompany the dishes. My friend and I split the Dukaneh breakfast with all the options, so you don't have to choose which one to try. Karak tea is also a good choice. Karak is black tea with a lot of sugar and milk, but this Karak is not sweet, so I like ordering it here. The restaurant also has lunch and dinner options.
Conclusion
Whether you only have a few days or a half day, there are at least five things to do in Muscat. My friend enjoyed Oman and said he would come back and stay longer next time. There is so much to see and do; visitors will be glad they added Oman to their list. I suggest coming to Sur for a few days if time permits. Check out things to do in Sur or find more details on Instagram @marvelous_sur.