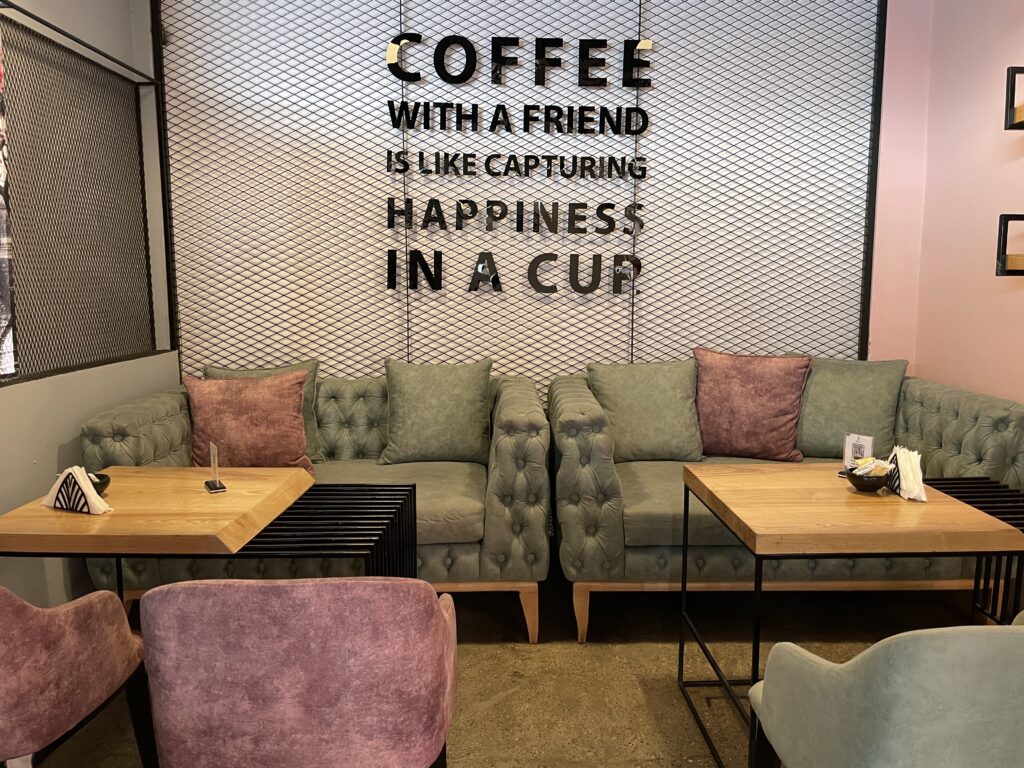 Coffee shops in Sur, the Sultanate of Oman, have been opening up here over the last few years, some being more popular than others. While Sur is not known for its coffee scene, it is good to know there are options if you want to sit down and enjoy a cup or have something different to drink. I want to share some of my favorite ones, according to the atmosphere, place to study or work, coffee, and best dessert.
Atmosphere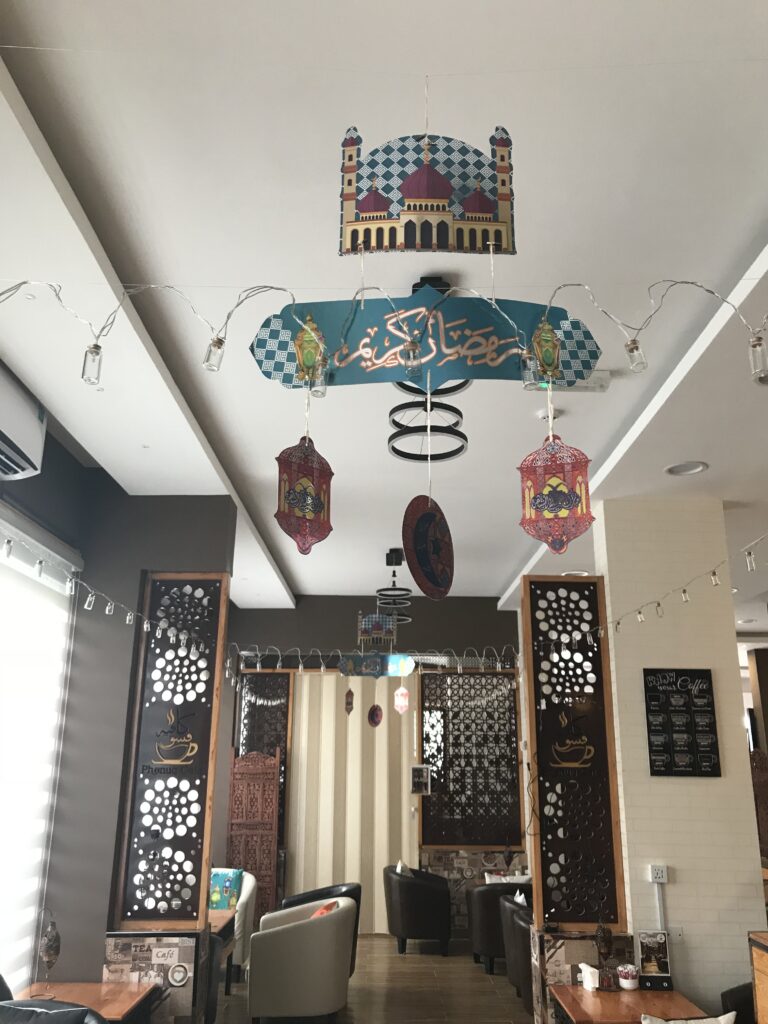 Phenuq Cafe is also a book store, mainly selling Arabic books, but a small section provides some English books and games. The relaxed atmosphere has a ladies-only area and another private room with comfy couches and chairs for six or seven people. There are also additional tables around the shop.
I recommend trying the Sans Sebastian cheesecake because it's not too sweet and very light. Coffees range from an Americano to a Spanish Latte. Smoothies and a small selection of tea are also available. The shop is on the other side of the movie theater, just down the street.
Work or study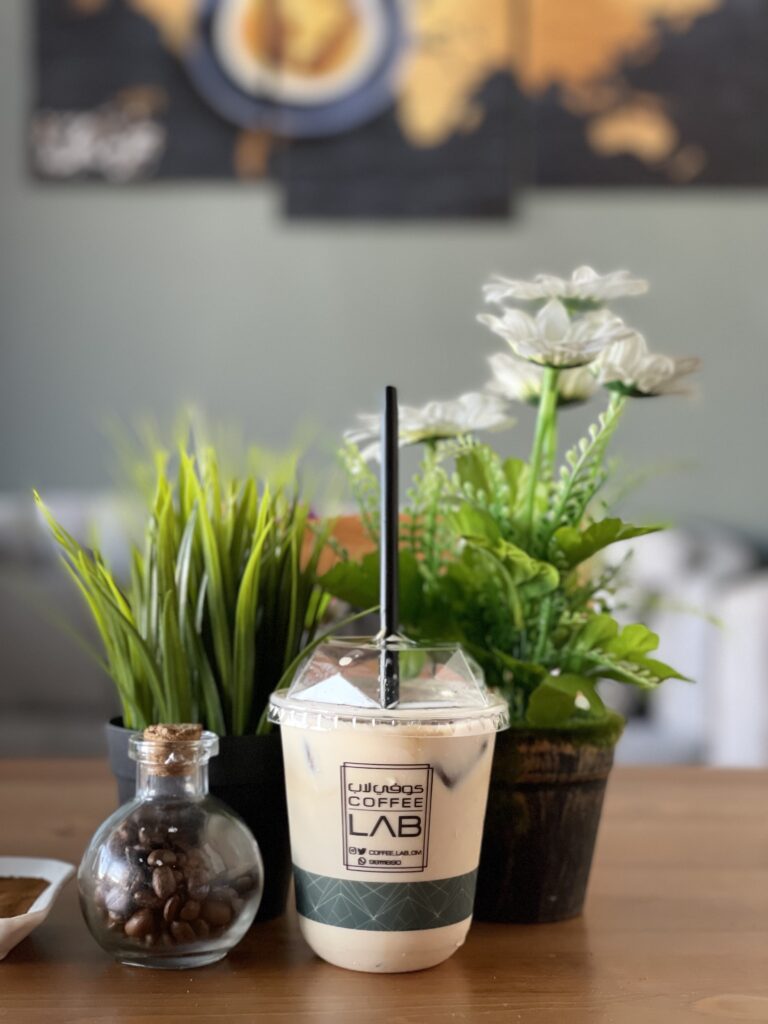 Coffee Lab is an excellent place to go if you want to study or do work. They have a couple of high tables, making it easy to type away at your laptop. It is also a nice place to relax and read a book. They sell sweet items such as pancakes, crepes, and cheesecake. Personally, the cheesecake and saffron cake is too sweet for me. However, the chocolate chip and red velvet cookies are delicious. The Flat White and Cortado are worth trying here. This shop is located across from the Beach Holiday Hotel, next to Raidan restaurant.
Coffee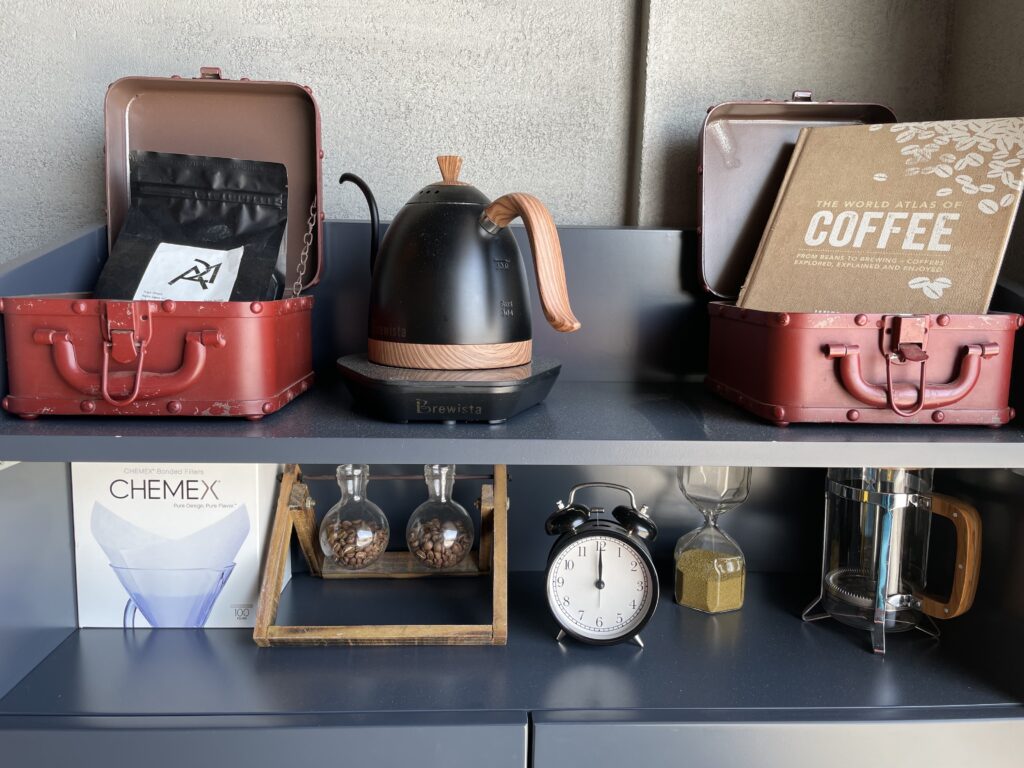 If you are looking for a strong Americano or Latte, then head to A-21. The friendly and smiling staff will always recommend something to drink if you can't decide. They sometimes sell saffron cake, and recently they started selling cup cookies. The cafe is near Sur Grand Hotel.
Desserts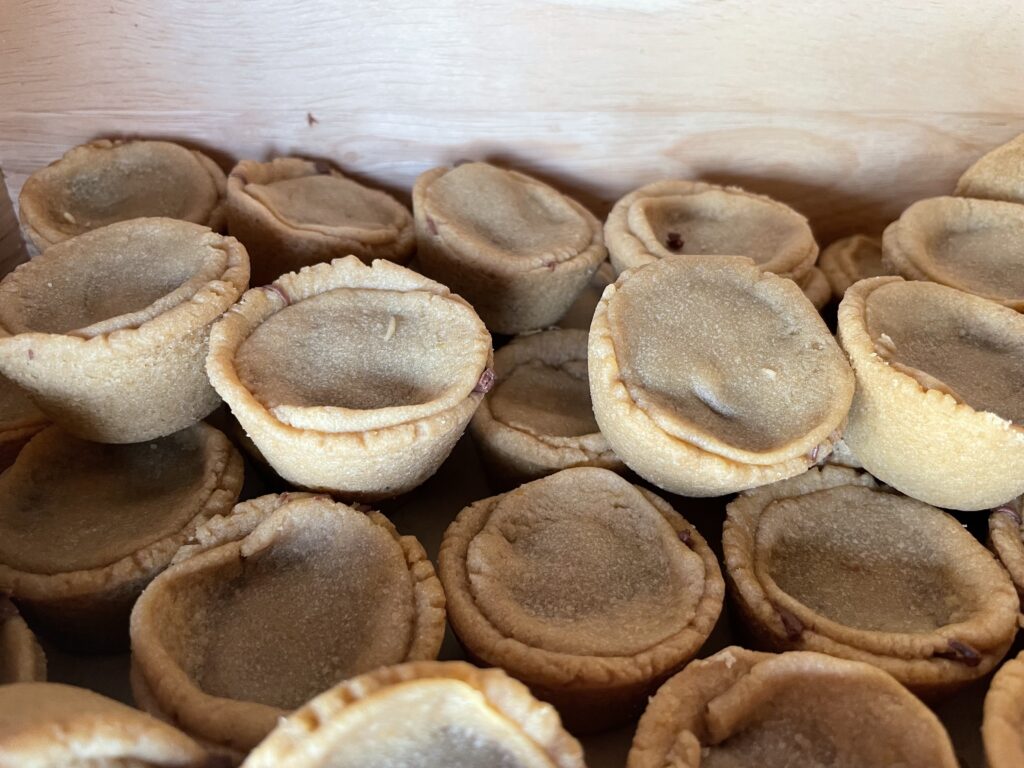 Brew Oz is next to the movie theater. They have a lady's section featuring a cute chair swing and flowers decorated along the wall. Inside the shop, local pictures are also on display. They are known for their Spanish Latte, but most importantly, they sell the best cup cookies. The Instagram account of @a_bite_of_happiness prepares them, but they sell out quickly. They used to sell them in the morning, but now they are available after 3:00 or 4:00 in the afternoon. If they sell out, another option to try is the mini cheesecakes which are also delicious.
Decor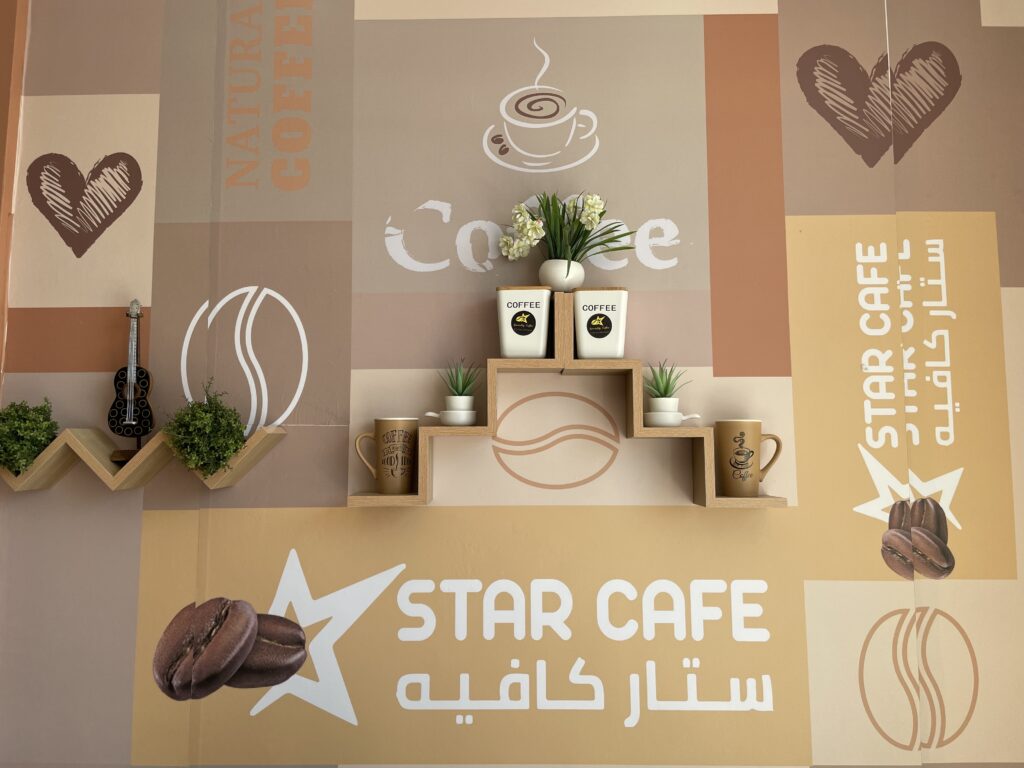 When walking into Star Cafe, the tiny pink motorcycle and tumblers full of coffee beans will catch your eye as they sit on the counter near the front. Star also has a cozy atmosphere with comfortable pink and purple velvet cushion chairs with white tables. It is easy to stay here for a long time to read a book and relax. They offer a range of coffee drinks, including ones with pistachio flavor. Sometimes a Saffron cake is available, but it seems to sell out in the morning. This shop is located just past Sur Gift.
Coffee shop stand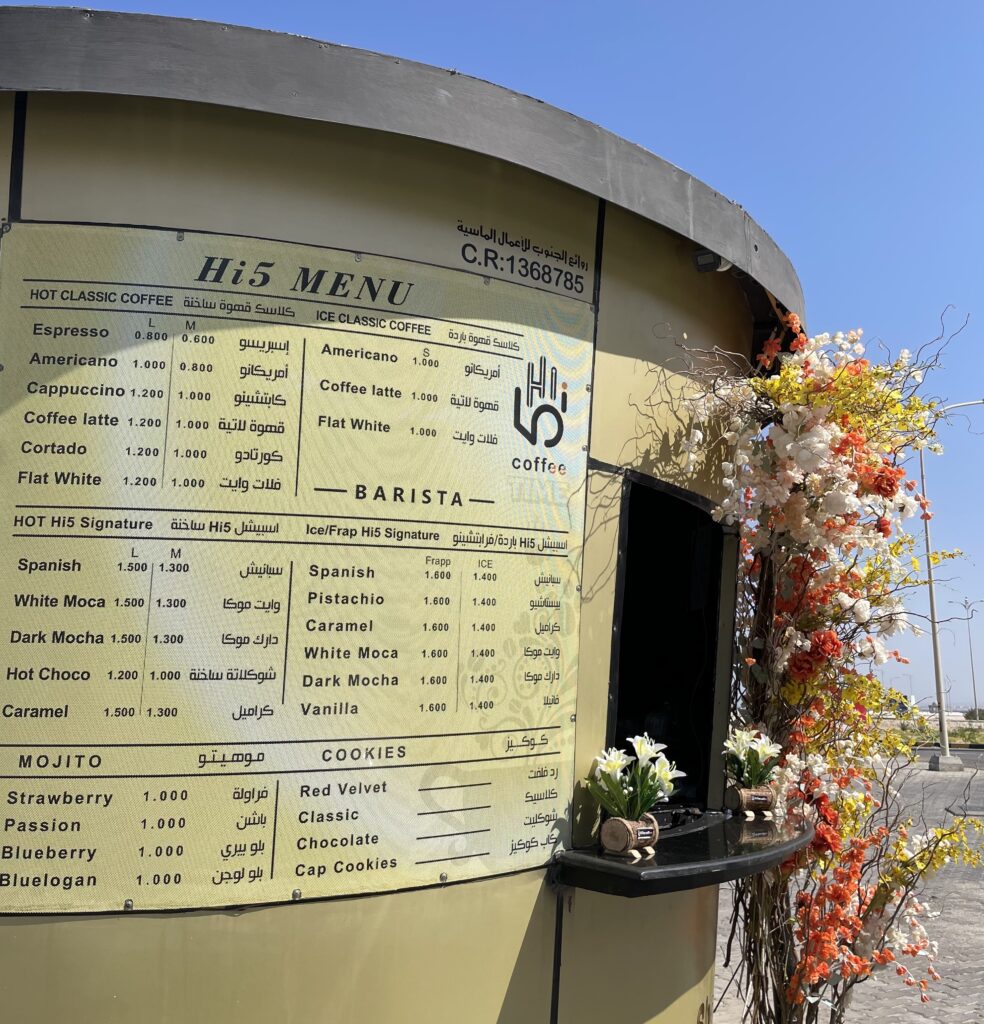 A recently opened shop next to KFC in Al Bar is called Hi 5 Coffee. This small takeaway shop offers typical coffee choices such as Lattes, Mochas, and Americanos. They also sell Saffron cake and cookies. The cookies seem to sell out fast because they have sold out when I have gone a few times in the afternoon. If you are like me and want a coffee in a bigger size than a small Karak, they do have medium and large cups available.
Conclusion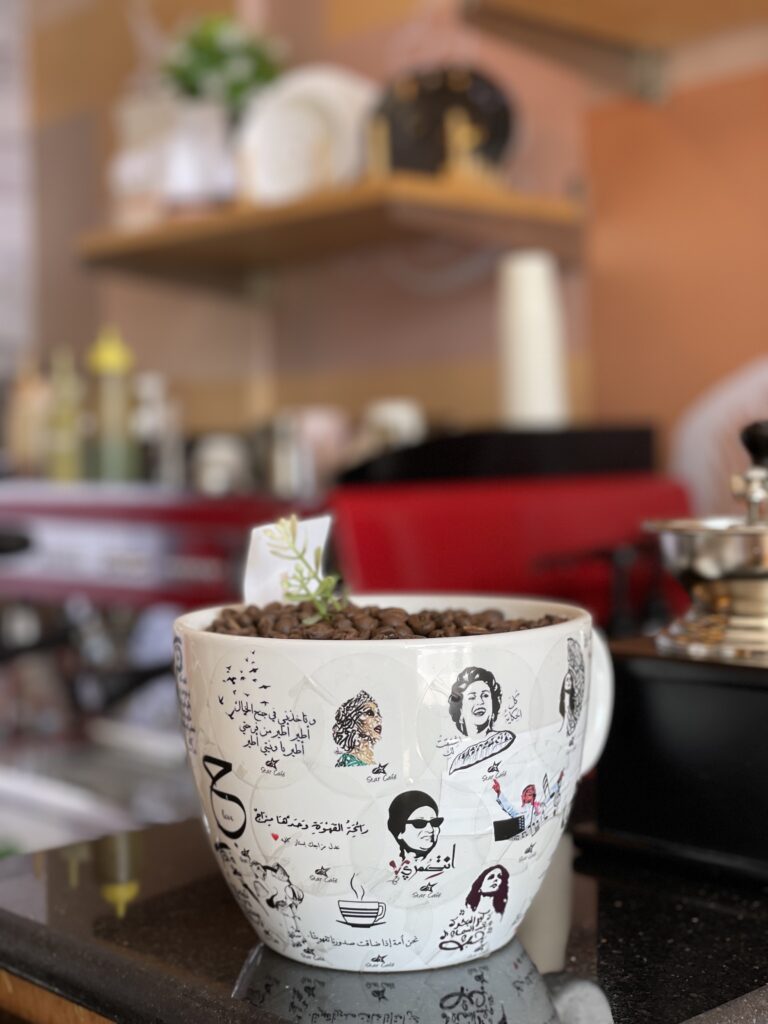 There are a few options for coffee drinkers and those who also like desserts. There are a few other shops around, such as Luca and Zaki Cafe, but I don't usually go to these because I seem to forget they are here. But, give them a try the next time you're in Sur. If you do try one of these cafes, let me know what you think.