There are a few things to think about when it comes to packing when traveling to the Middle East. For women solo travelers, visiting the Middle East might seem daunting, but it should not be.
I've compiled a few items to add to your suitcase when traveling to the Middle East. While living in Oman, I still pack these items while traveling outside to nearby countries.
Clothing
Depending on your travel length, I suggest packing at least one pair of pants or longer capris, two long skirts, and a long dress. Bring three short-sleeved shirts that can go with the skirts and pants. A pair of workout pants is also suitable for those wanting to hike. Because of the extreme sun, you may want to bring a three-quarter-length or thin long-sleeved shirt.
When visiting mosques, sleeveless tops will not be allowed, and some villages will also ask guests to cover their arms. A lightweight sweater or jacket is a good idea because it can get cold inside restaurants and museums. It's also good to have when you do visit mosques. I also bring a scarf when packing for the Middle East to cover my head which is a requirement when going inside mosques.
Shoes
If you're planning to hike but don't want to bring heavy boots, pack a pair of gym or running shoes with a good grip. Bring comfortable walking shoes and a pair of sandals. For those wanting to swim and snorkel, save room in your bag for water shoes.
Sun protection
Make sure to bring sunscreen, a hat, and sunglasses. If I'm traveling and plan to hike, I also get a neck scarf that can cover my face when it's sweltering. Try not to forget the scarf when packing for the Middle East.
Swimwear
People always want to know what they should bring for swimming. It's okay to wear a bathing suit at hotels and private beaches. But I recommend covering when swimming at Wadis out of respect for the locals. It's best to bring a pair of yoga pants and a T-shirt or swim shirt. I usually wear pants and a shirt over my bathing suit when swimming. Many Wadis require hiking to get there, so I also wear pants to protect my skin from the sun and from getting scraps on the rocks. It may seem odd, but the clothes will dry when returning to the car.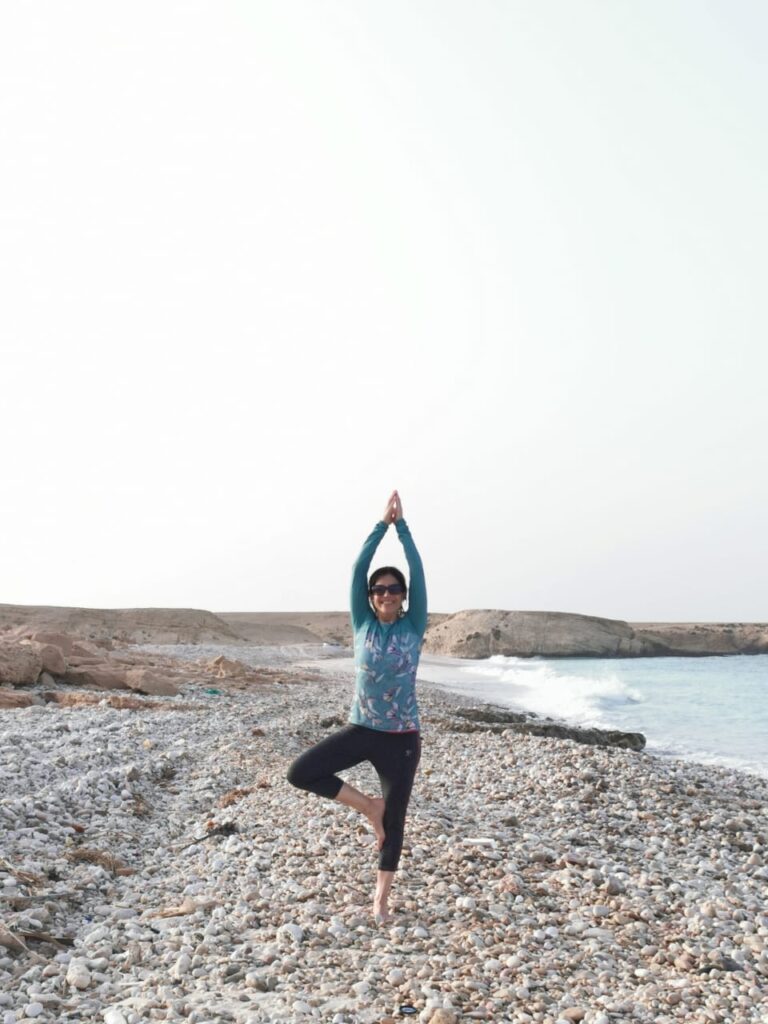 Other items
I try to bring a water bottle holder and a small tote bag in case I need an extra bag for the beach or shopping. Bring a charger for the phone and the correct power cord. I once mistakenly brought the wrong cable, but luckily the hotel had an extra one. It's also good to get a travel adapter wall plug when visiting the Middle East. I also take my Kindle and usually a small notebook to journal my trip.
Female Hygiene
As a woman, I know it's sometimes not easy traveling when it's that time of the month. I save room for tampons, panty liners, and pads in my bag. I bring plenty of tampons because some shops only sell pads. I know some use the flow cup, which I haven't been successful with. It depends on the person.
Money
I try to exchange some money before traveling. When I arrive, I usually go to an ATM in the city. I also bring dollars since the rate tends to be better than the rial. I also travel with two cards just in case of issues with my bank. When I traveled to Jordan, sometimes my Omani bank card worked, and the transaction would not go through in other places.
Conclusion
Traveling to the Middle East is exciting, so packing should not be stressful. It may seem odd to wear longer clothing, but it's better to cover out of respect for the locals. Don't forget to bring a positive attitude and patience.