After landing in Cusco, Peru, I immediately felt this excellent vibe. Hardly anyone was on the street, and I went to the local market searching for a hat because it was one-degree celsius and I was cold; watching the vendors get ready to open their stores was something to watch. The woman whose shop I bought my hat from was patiently letting me watch her set up her items in neat piles ranging from scarves, gloves, and other winter items. After getting settled, it was time to discover Cusco. As the day went on, tourists, locals, and vendors surrounded the streets, but it didn't have the touristy vibe, 'get me out of here now.'
I like wandering around on the first day I arrive at new places to discover and learn new things and get a feel for the area. After walking around the first day, I realized I needed to finalize my plan of things to do because there were so many options, and I did not have time to do it all. I researched and then decided on a few places to visit. Below is a list of the best things to do in Cusco.
Maras Salt Pools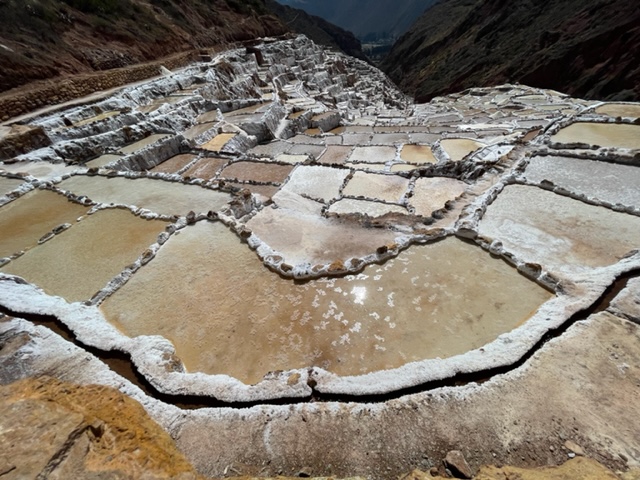 There are about 3,000 saline pools, and families own them. The salty water comes from the mountain, fills the pools, and takes one month to produce salt. In Inca times, they used to pay salaries with salt. The ponds are 20 meters deep. The people only do this in the dry season. This was on the top of my best things to do in Cusco list.
Moray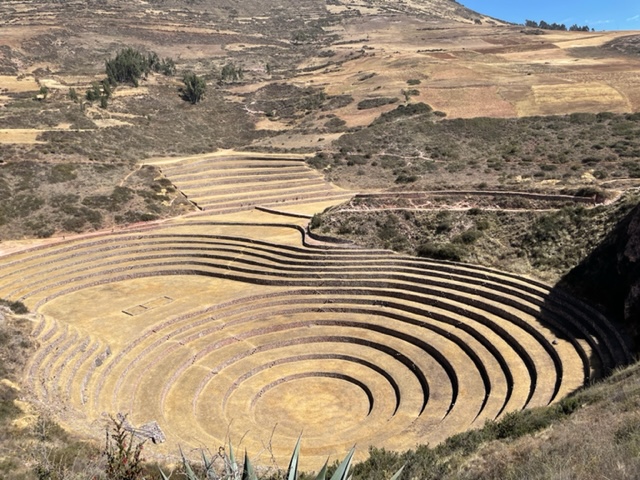 Water and minerals formed circles, so the Incas took advantage of storing crops. Incas produced cotton, cocoa teas, and tea leaves from the jungle. Incas used Moray for filtering and storing crops. Corn was grown mainly here. The site on the left side, which is more green, has been renovated. But if going to the right, this smaller site hasn't been touched.
Museo Inka
This museum was one of my favorites when it comes to the best things to do in Cusco. They have different exhibitions, including pre-Incan culture, the Incas of Cusco, and information about their early settlement. There is also a room featuring a variety of musical instruments. One of the employees will play the instruments if requested. Jewelry and traditional clothing are also on display.
Take a cooking class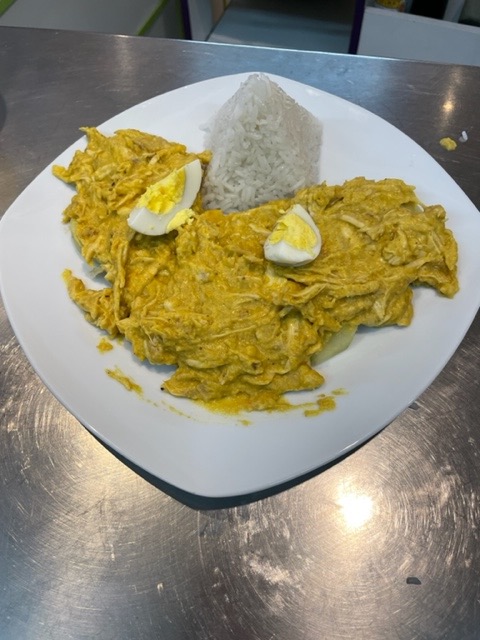 Several places offer cooking classes, with a morning or evening option. I took mine with Pete's Peruvian Cooking class. There is a choice of taking a short one-hour class, but it will not include a visit to the local market. Or, visitors can sign up for the three-hour afternoon class, which has a market visit. I took the one-hour class due to time. It included learning to make a pisco sour and the main dish, Aji De Gallina. Guests can choose to learn how to make a chicken or beef dish in the one-hour class. The more extended cooking class is a three-course meal. Spots fill up quickly, so it is best to book them early.
San Pedro Market
The market sells everything from quinoa, scarves, chocolate, cheese, fruits/veggies, and bread. Try the granadilla fruit, which looks similar to passion fruit. There are small restaurants at the back of the market; if it's cold, they sell coffee and hot chocolate. If you find yourself at the market at night, there are also a few blocks of locals selling items just outside this market.
San Blas
About a fifteen-minute walk from the center, this colonial neighborhood has cafes, art shops, and lovely alleys to walk through. The cobalt window trims and doors stand out. You may hear live music from one of the shops. I spent a lot of time wandering around this area.
Saqsaywaman
It will take about thirty minutes if you do not mind walking to the site. This site is one of the holiest places, featuring the sun and water Gods. There are more than 7 kilometers of rocks, and four tunnels were inside during Inca times. I enjoyed admiring the stacked layered stones on top of each other and was astounded by how the Incas built this fort.
Exploring the city
Take some time and wander around with no plan. Along the way, choose a different alley to go through and notice the colonial buildings and the church's architecture. For those door lovers like me, you will enjoy taking pictures of blue and green doors with spiky gold circles on them. There is plenty of street art to admire. I also stopped at one of the local restaurants away from the city center and had a three-course meal for ten sols. Many restaurants like this will have soup, a main, and dessert. Exploring is always a favorite of mine, so add this to your list of best things to do in Cusco.
Rainbow Mountain
Rainbow Mountain is about a three-hour drive from Cusco. For those who like walking and don't mind the altitude, it is worth visiting but be warned that it is crowded. After reaching just over 5,000 meters, ask your guide to go to Red Valley, another fifteen-minute walk. Here, there are no crowds, so this is the place to visit to view some stunning crimson-colored valleys.
If you go
Cusco is an accessible and walkable city. When I went to Moras and Moray, I booked a half-day tour. Rainbow Mountain was part of a half-day trip included in another hike I went on. There are plenty of agencies across the Plaza De Armas to buy tickets. Visitors can buy a tourist ticket for 130 Sols, which includes access to 16 archeological sites and museums. Guests can purchase the tickets at archeological sites, such as Moray and Saqsaywaman. Boleto Turistico near the main square also sells them.
The churches have an entrance fee, and local guides will take you for a tour at an additional charge. Guides are also available at the archeological sites for an additional cost. Cusco has a variety of restaurants and cafes for all types of travelers and budgets. There are also vegan and vegetarian restaurants. Some ATMs have the option to take out US dollars or Peruvian Sols. If altitude is an issue, local pharmacies sell coca tablets.
Accommodation
A range of hotels are available, but Loreto Hotel Boutique is a nice one in a good location. It is across from Plaza De Armas. In July, the cost was $61 per night, including breakfast. Breakfast is simple with eggs, bread and fruit. I liked the hotel because it was across the street from the main square and less than a fifteen-minute walk to the San Pedro Market and a ten-minute walk to several museums. 
Conclusion
I stayed an extra day in Cusco because I enjoyed visiting and wandering around. I was also not ready to leave because this place and Peru, in general, are full of life and surprises. The city is lively and has plenty to do. Come for a few days or stay for one week. Hopefully you will have a chance to do some or all on this list of best things to do in Cusco. Good vibes, museums, churches, archeological sites, and great food are all reasons to visit.