Zanzibar, known as Spice Island, is full of big vibes, bright colors, beaches, villages, and locals ready to show you around the island. People have asked me if it's safe, and the answer is yes. Traveling solo, I never felt uncomfortable walking around. Before you head out, here are some tips for traveling to Zanzibar. The information includes visas, currency, tipping, dress, phrases, food, and getting around the island.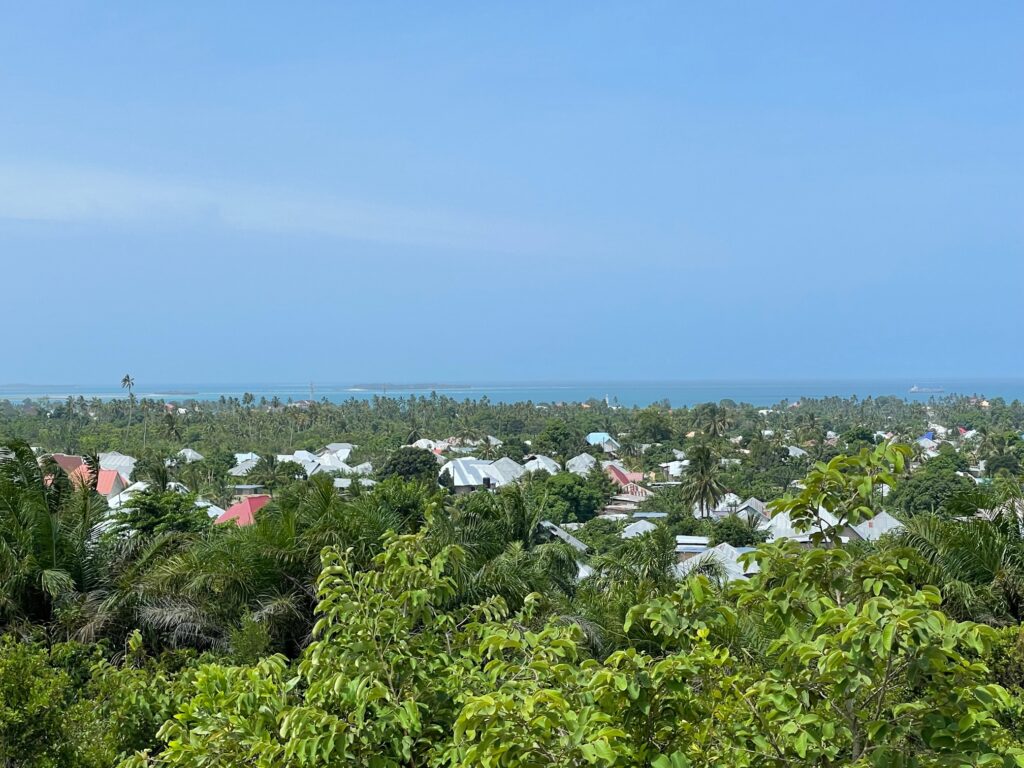 Visa
Visas are a must when visiting unless you're from one of these countries. You can do a visa on arrival or an e-visa. I recommend an e-visa because it only takes a few hours (this happened with mine) to get the visa and costs $100 for multiple entries. The visa is good for one year. You will need to upload a passport-size photo, a copy of your passport, and a pdf of your return ticket. I noticed that the visa-on-arrival line was hectic because you must go to a few counters to finish everything.
Currency
The local currency is Shilling. $1 equals 2,336 Shillings, but check with a currency converter for the latest rate. Most hotels and tours accept dollars, but change will be in Shillings. Many hotels will take credit cards; however, when I booked some bed and breakfasts online, they did not accept a card for payment, so make sure you have enough cash. There are plenty of money exchange offices and ATMs.
Tipping
Tipping is not expected but appreciated at restaurants and cafes. It's also good if you tip a guide and driver on tours. I went to some villages, and my guide encouraged me to tip the locals from that village who took us around. They said there was no exact amount and that it was up to me to give what I felt best. When we visited a school inside the village, my guide suggested 5,000 Shillings for a donation which would go toward new equipment.
Dress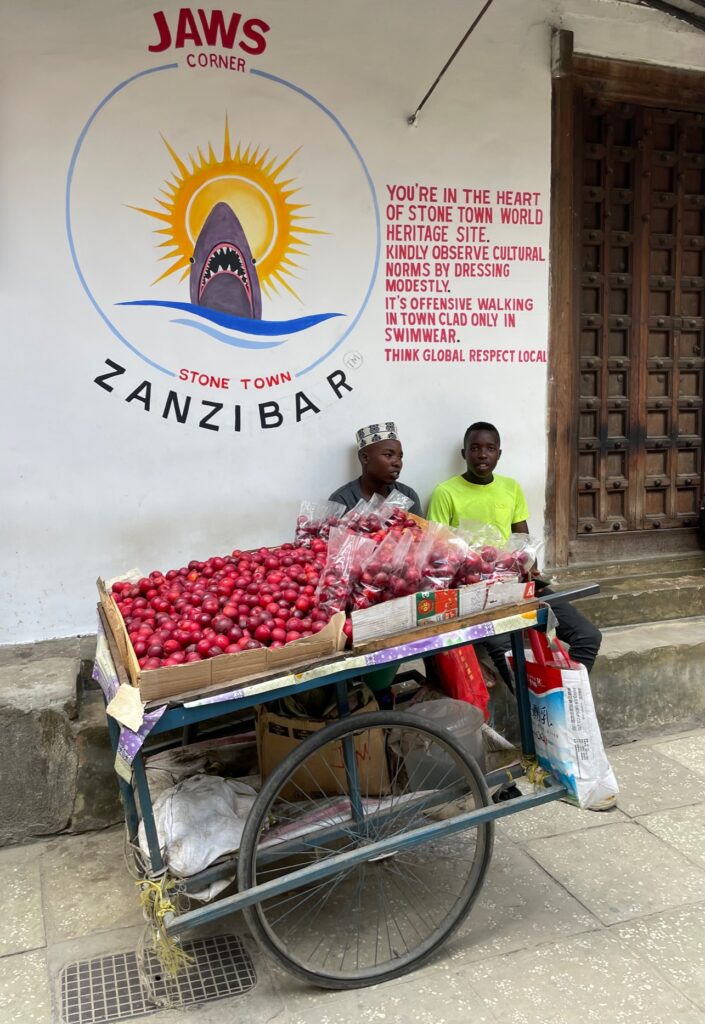 You will see a sign in Stone Town to dress appropriately. They don't want people walking around in bathing suits. Anything goes at the beach, but if you plan to visit villages, it is polite to wear looser clothing while covering shoulders and knees out of respect.
A few phrases
You will hear the locals say pole, pole, which means slowly. Hakuna Matata is another one, which means no problem or no worries. The locals are very relaxed people and are not in a hurry.
Jambo is hello, while Asante is thank you. Karibu means you're welcome. Another tip for traveling to Zanzibar is to smile when talking to someone.
Food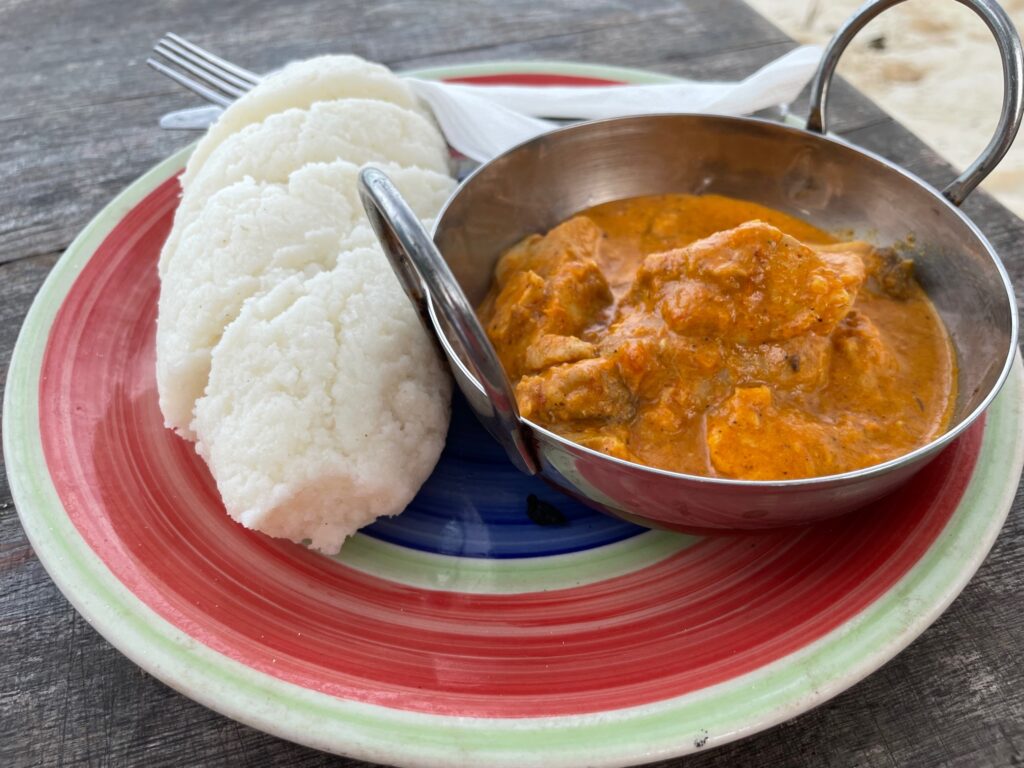 It is common to eat food with the right hand. Some traditional Swahili foods include mandazi, triangular-sized fried dough, beans with chapati, grilled banana coconut, and Ugali – made from corn flour and water.
The cost of 1.5 liters of water in a shop is 1,000 Shillings, and street food at the night market in Stone Town starts at 3,000 shillings, depending on what you order. The price of food at restaurants varies but expect to pay anywhere from 5,000 and above.
Getting around
There are plenty of taxis to take you around the island. It's also possible to rent a car, but I am not sure what the requirements are because I had a driver for the tours I booked. Most accommodations can help secure a taxi or a tour for you. The cost from the airport to my bed and breakfast in Stone Town cost $15. I'll share more details about tour suggestions in a separate post.
Conclusion
Hopefully, these tips for traveling to Zanzibar have helped, and you are ready to go. Zanzibar is safe, has delicious food, and is full of life. I'll post more details on tours, suggestions and places to stay in another post.