Aromas and Decor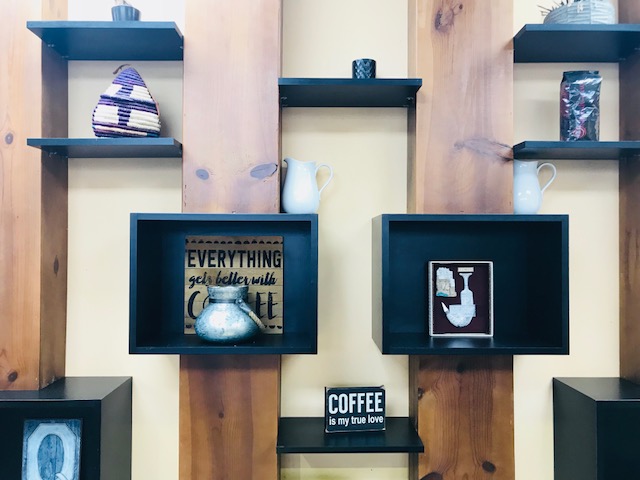 The aroma of cinnamon, ground coffee, and cardamom makes it worth the short drive to Qahwah House in Dearborn, Michigan. Immediately walking into the shop, one can't help but notice the shelves on the walls filled with clay teacups in green and black with white and blue flowers decorated on them, a silver sword dagger representing Yemen, and even silver tea kettles. Various coffee beans appear in five wooden barrels in the middle of the store.
Reasons to Visit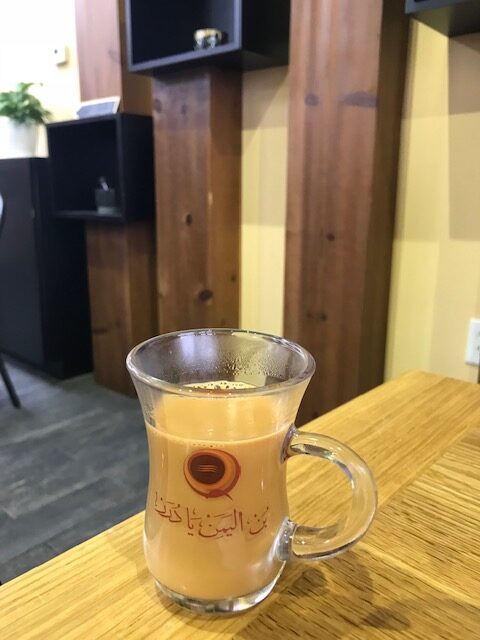 This shop has this make yourself at home atmosphere. It can be a place to study, work, or enjoy a conversation over some coffee or tea. I also like coming here because of the variety and uniqueness of their coffee.
Fantastic Selection of Coffee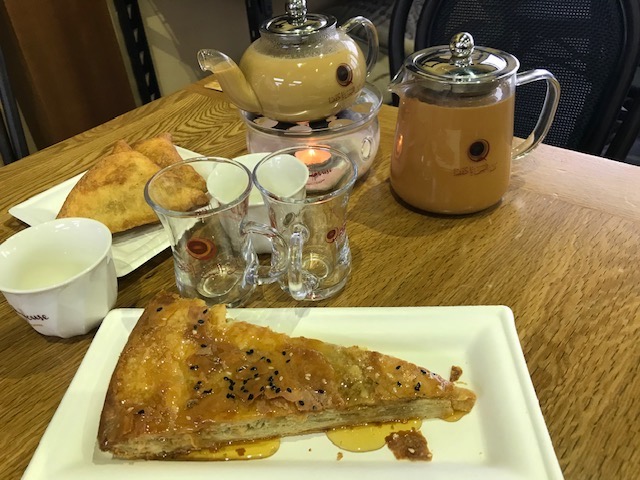 Two of my favorites are the Mofawer, a medium roast coffee mixed with cardamom and cream. The Adeni Chai is Yemeni black tea, cardamom, nutmeg, and milk. The cinnamon smell alone is worth a try. If you want to try a little more unusual coffee, try the Qishr, which has ginger and cinnamon. Turkish coffee is also available. It is also possible to order a small, medium, or large pot of coffee or tea. The small ones are enough for one to two people to share.
If coming in for breakfast, do not miss the savory treats, such as Sabaya, a layered flakey Phylo-like dough texture, honey drizzled on top, or even Sambosas, similar to Indian samosas filled with meat or cheese. Sometimes they also have Basbousa, which reminds me of a hardened corn muffin texture or semolina with sometimes syrup layered on top.
An Interview with the Owner
I wanted to know more about Qahwah House, so I reached out to the owner, Ibrahim Alhasbani.
Me: Why did you open this shop?
Ibrahim: Qahwah House was born into existence when I wanted to share my culture, family expertise, and love of coffee with the world. When I tried coffee in America, I was stunned. It wasn't actual coffee – at least not the one I grew up on and got used to. Seeing that the coffee scene in the States was not like in Yemen, I knew I had to do something. As a result, after moving out to Michigan, I took a leap of faith, contacted my family back home (who again have been harvesting coffee for generations at our farms), and opened up the very first Qahwah House.
Me: Are all the coffee beans from Yemen?
Ibrahim: Yes! All of our coffee beans are sourced from my family's farms in the mountainous terrains of Haraz in Sana'a. We've been growing and cultivating coffee for generations.
What Customers Can Gain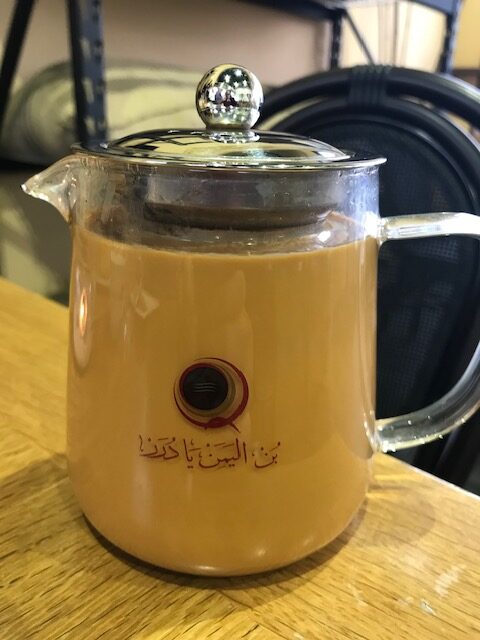 Me: What do you hope the customers gain when they drink coffee from your shop?
Ibrahim: I hope that customers get the same premium, high-quality experience that I have with Yemeni coffee. I want customers to try organic, aromatic, and highly caffeinated coffee with different spices. I hope customers gain more than a cup of coffee. I hope they gain a story. A story of generations of hard work. A family history of cultivation.
Me: Is there anything else you want to add?
Ibrahim: Most people don't know that Yemen was the first country to export coffee. Coffee originates from Yemen. In other terms, I want people to know that Yemen is behind every cup of coffee, behind every smile in the morning. And I hope Qahwah House could be that vessel here in the States.
Locations
They have two locations; Schaeffer Road and Michigan Avenue. They open at 7 am Monday- Saturday and 9 am on Sundays and close at 11 pm. Other shops will open around Michigan. They have another location in the Williamsburg neighborhood in Brooklyn, NY, and are currently opening shops in Chicago, the Lombard area, and the D.C. area in Arlington, Virginia. To learn more about the coffee, check out https://www.qahwahhouse.com/contact or Instagram @qahwah_house.