Discovering the unexpected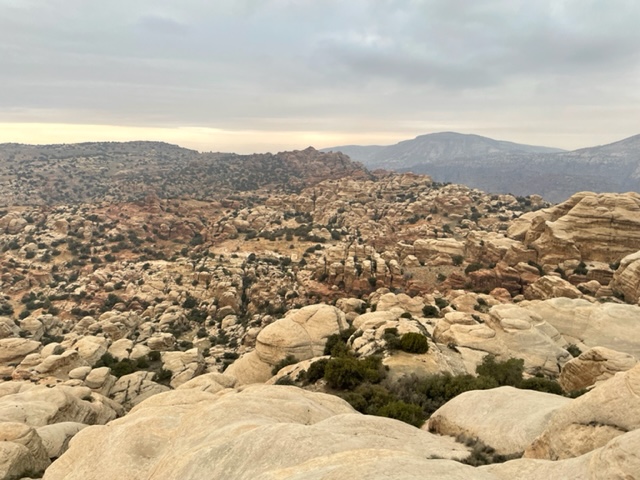 Sometimes when you don't plan everything on a trip, one discovery can make it one of the highlights of your holiday. I wanted to visit the Dana Nature Reserve in Jordan, one of the country's largest reserves. It is 325 kilometers of mountains, wadis, and several hiking trails. I arrived in Dana Village late at night and immediately noticed a traditional Jordanian-style hotel.
Making you feel at home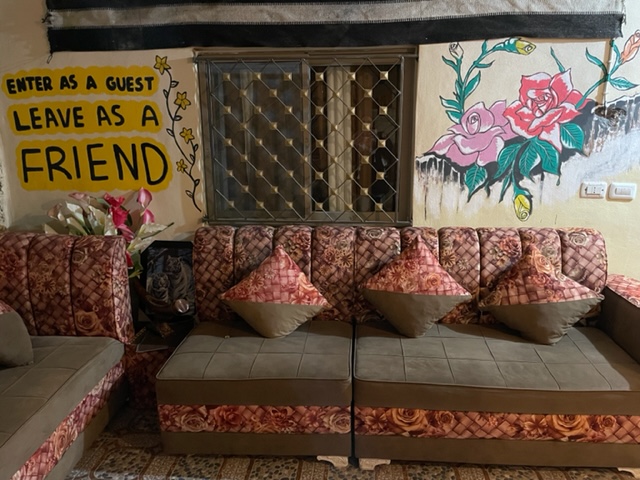 Sometimes, you feel at home when you visit a place. Immediately you feel that connection with something or someone. This feeling is how the Dana Tower Hotel is. Immediately after walking up the stone stairs and entering the sitting area, I knew I wanted to reserve a room for the night. The room has traditional black and red cushions and red carpets. I stayed here in January, so there was also a fire to keep me warm.
The rooms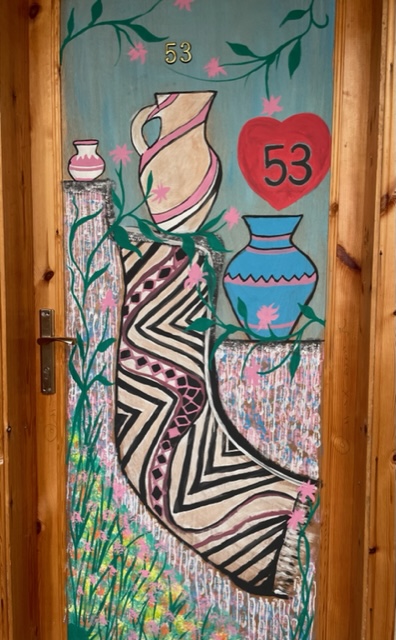 First of all, the beautifully decorated doors have traditional bright yellow and blue colored water pitchers decorated on them. Another sitting area downstairs has traditional Jordanian decorations, like clay pottery vases and black and red-colored chairs.
There is an arrangement of rooms to suit people's preferences. They have hostels, economy, and rooftop options. The manager, Hazem Nabil Nwafleh, says it is possible to sleep 30 people on the terrace outside in the summer!
The hotel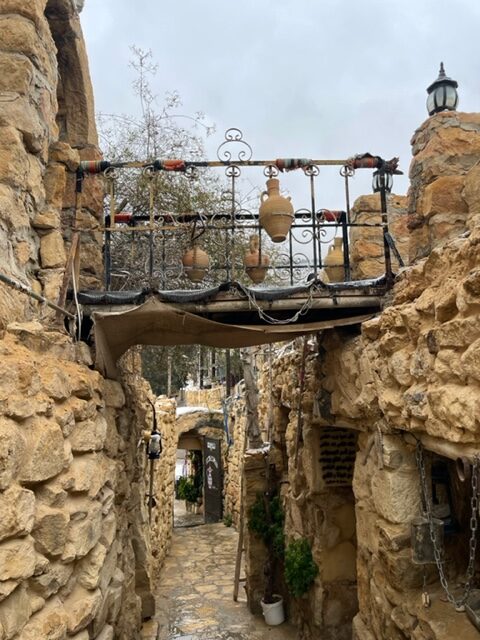 Hazem's father turned his home into a guesthouse, and now it's been operating for twenty-five years. His dad found a way to preserve the house and the village while showing other families how they could make money.
Take some time to wander around. There are hanging clay water pitchers around the hotel, and the terrace has potted plants all around. Take a seat and notice the views of the traditional village to admire the clay homes in warmer weather. Hazem will tell you that this is your second home, so do make yourself at home.
Guided treks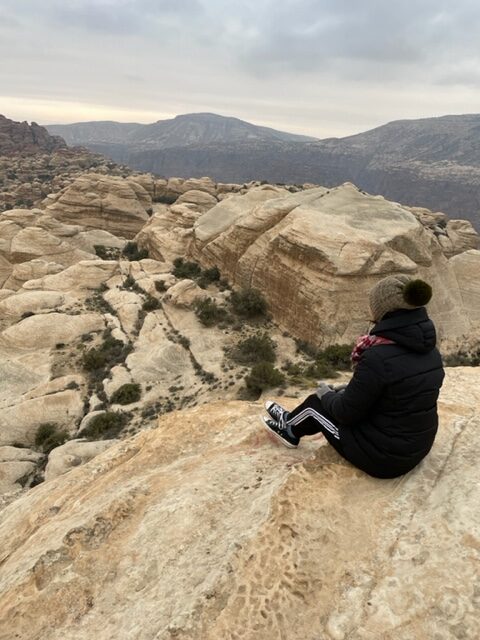 Guided hikes are possible, with some taking about three hours, while others are 16 kilometers that start about an hour away from the hotel. Dana Tower also offers three to four-day treks from Tifilah to Petra.
I visited in January and didn't have proper hiking boots – I only had my converse shoes. So I did the short tour that took just under three hours, including breakfast inside the reserve.
The starting point is about a ten-minute drive from the hotel. This route was the Shaq-Al-Reesh trail. My guide, Salem, led the way, passing by caves that the Bedouins once occupied and taking in views of mushroom-shaped rocks and uneven layered rocks in slate and red hue colors. After an hour, we found a spot to have breakfast. Salem started the fire and prepared eggs, cheese, vegetables, and bread. While he was setting everything up, it began to snow!
Planning ahead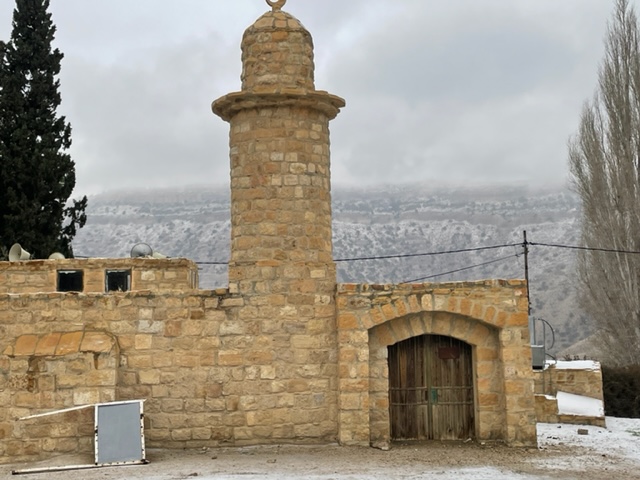 If I had done my research, I would have stayed at this hotel longer to explore more of the reserve. I want to come back when the weather is better to try the 16-kilometer wadi. Depending on the month you go, some trails might be closed due to the weather. Expect some closures from December to early February. Dana Village is also worth exploring to see the traditional mud homes. This area is a place to take a break and relax.
Getting here
I came here after visiting Petra, and the drive was about one hour. The day I did the short hike, it started snowing. Roads began to get slippery, and visibility was becoming a problem. We had to have the police drive us out of the mountain. If we had stayed another day, I might have missed my flight because the roads in the surrounding areas were closed. Again, plan accordingly and leave enough time for unexpected events.
Booking
For more information, check out Instagram @danatowerhotel or www.dana-tower-hotel.com. You can also email info@dana-tower-hotel.com.