Did you know that 95% of what we think and do is habitual? Do you know what a paradigm is? It is a mental program in our subconscious mind that controls what we believe and do habitually.
The breakdown
Let's break this down a little bit, so it makes more sense. A concept called stick person was introduced to me by my mentor, Dr. Spencer Pool. The top part is the head, divided between the conscious and subconscious mind. The bottom represents the body.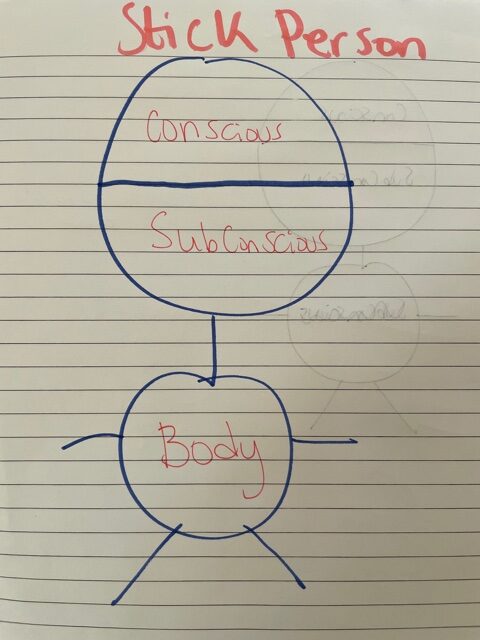 The conscious mind is your thoughts and knows to accept and reject. However, the subconscious can only believe an idea. The emotional mind determines how the body will react, resulting in a positive or negative vibration.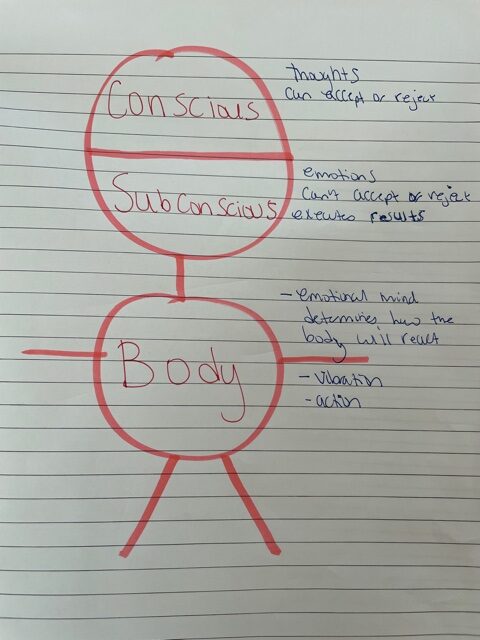 For example, if you continue to think that you are going to get sick or injured, eventually the subconscious accepts this idea, and then the body reacts by getting ill or hurting yourself. The key is to shift these paradigms and start having positive thoughts. Compare this to not having the Facebook app on your phone. If there is no app, then you can't get on Facebook. The same applies in life.
What are your goals?
Think about what you want in your life. Do you want to practice gratitude? Do you want to be a confident person? Do you want to be a boss? Do you want to travel the world? Maybe you want a big house on the beach. Whatever your desires are, it is essential to start planting these thoughts into your conscious mind. Here is an example for creating gratitude.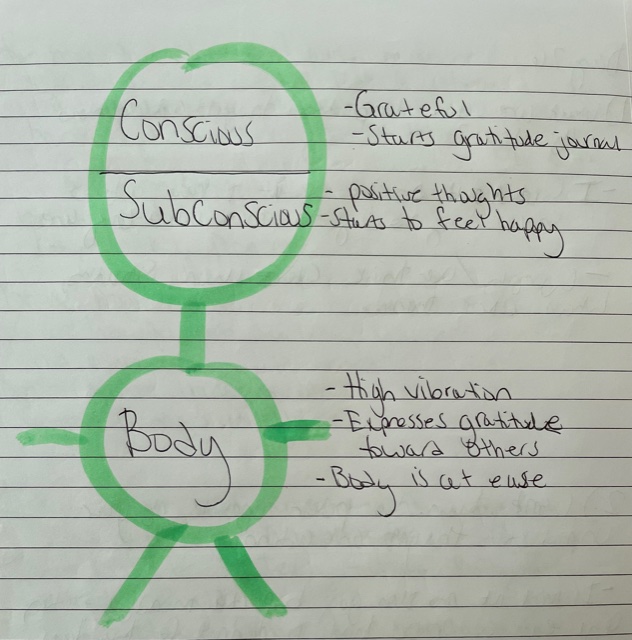 As you can see above, as your thoughts start practicing gratitude, the body picks up on this, resulting in a high vibration and feeling at ease. Your energy will shift to a positive mindset.
A money goal
Maybe your goal is to make an extra $500,000 a year. Start visualizing having this money and think about what you will do with this extra income. Every day visualize this goal, and soon the subconscious mind will accept it. The body will have a positive vibration, and eventually, the extra money will start coming to you. Of course, the funds will not appear out of thin air. You need to do the work and implement a plan to reach this goal.
This concept applies to everything. Whether it is an internal or external goal, positive thoughts need to control the mind. I challenge you to draw your stick person. Have some fun!
Want to learn more?
Does this idea interest you? Do you want to learn more? There's a chance to join Spencer's self-image accelerator program. It starts tomorrow, the 24th of October.
Self Image Accelerator
This 30-day program is fantastic and life-changing. Every day, Spencer sends a video with a short task. This program will help you rediscover your passions, set small and big goals, and even learn to gain more confidence. Spencer also shows you how to become more disciplined, and you will also learn about intellectual faculties.
Why sign up?
I did this program over one year ago, and I can tell you it was money well spent. I have grown internally and have learned how to control my thoughts, and I have learned to visualize my goals and take action to achieve all of them. This opportunity is one of the best decisions you will make.
How to sign up?
I have included a link from Spencer highlighting the program. I have also included a payment link below the video for those that are interested. Do not wait another minute for this chance!